Alen Stajcic says there is so much potential in this Westfield Matildas squad and declared no nation left in the FIFA Women's World Cup will want to play them in the knockout phase.
Speaking after the side booked their spot in the last 16 with a 1-1 draw with Sweden, Stajcic hailed the incredible growth and belief flowing through his young squad.
Matildas into round of 16 after Sweden draw
GALLERY: Matildas joy in Edmonton
"We tried to change a lot of things in the team to bring out a positive culture and positive behaviours on and off the field and the team are starting to show that," the Matildas boss said.
"There are still a lot of dynamic players, still a lot of good players and we still showed energy towards the end of the game.
"Sam Kerr's running right up until the last minute was fantastic. Larissa Crummer who's 19-years-old comes on and is just buzzing around.
"The effort was unbelievable from every player. The knowledge and belief to know that what your are doing is working.
"And with such a young group, there's still so much growth and potential left in this group for this World Cup but for the next World Cup and the Olympics too.
"It's one game at a time but I'm sure anyone who's in the round of 16 won't want to come up against us because they are going to get a good fight."
It's a theme Socceroo boss Ange Postecoglou has also made, saying he hopes teams at the World Cup will want to avoid playing the Green and Gold as the game and national teams develop in Australia. 
The Matildas draw against the fifth-ranked Swedes means they finished second in a hugely difficult Group D, which also included powerhouses USA and Nigeria.
"I'm very proud of the team. I read a lot of reports before the World Cup started and I don't think I saw one report that said Australia would come through the "Group of Death"," Stajcic said.
"So it's an amazing achievement from a young group of players. I think seven out of the starting XI players were aged between 20 and 22.
"It's an amazing effort from such a young group to show such maturity and composure against such seasoned professionals like Sweden. We showed a lot of composure.
"We know we can compete against the best and really take on the best and we can't wait to get to the knockout rounds."
Waiting for the Matildas in the last 16 is South American giants Brazil, with the two sides to do battle in Moncton in the early hours  of Monday morning ((AEST).
Asked about the challenge of taking on another of  the world's best sides, Stajcic said: "We've already played two [former] World Cup finalists so you might as well throw another one into the equation.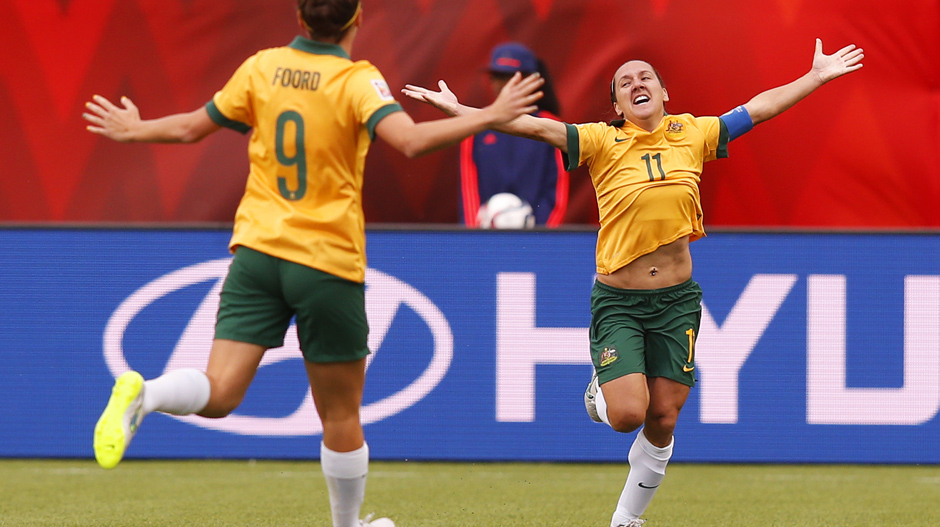 "Brazil's a great team and have fantastic players. Everyone knows Marta, Cristiane, and Formiga…they have been around forever.
"It's going to be a tough opponent, they obviously topped their group…but I'm sure Brazil won't be happy having to play us. It will be a good contest and a good quality match.
"I said it yesterday that whoever gets out of [our] group can make the semi-finals as a minimum," Stajcic added.
Bring on Brazil! 'KK' eyes Samba showdown
"Everyone who has to come out of our group, they are  all battle-hardened. There's been no easy games, no 10-0 wins, every game has been hard fought and if you come out of that healthy, it just toughens you up for the knockout matches where any slip ups and you're out."